Electric cars will no longer be silent
In this article you read about silent electric vehicles & sound for electric vehicles.
Electric Transport is taking our future and our present by storm. More and more companies are coming up with variants of their electric vehicles. Electric Cars in particular are gaining fame because of their rechargeable engine that is powered by batteries as opposed to the traditional gas engine.
The cost of utilizing petrol in a traditional engine is 60% more than the cost that is required to charge an Electric Vehicle (EV) for the same amount of distance covered in a vehicle of equal size. This cost can be further lowered if you change your vehicle at a solar PV system or at some free charging station.
You can even install a rooftop solar installation and create your own electricity and decrease the cost further. These cars are also well-known for their reduction in emissions and hence have become a favorite with many environmentally conscious users.
In addition to that, they create lesser noise pollution which means additional health benefits for everyone including a decrease in road rage, anxiety, and tension and an increase in cognitive abilities.
Reports by World Health Organization (WHO) further indicate that exposure to higher levels of noise in the environment, particularly above 53 decibels (dB), can lead to health issues like heart problems, high blood pressure and even hearing losses. Acoustic services functioning in many countries of the world keep tabs on the sounds and vibrations produced in an environment.
The big city different places have varying permissible noise levels. During the day, if you are approaching residential buildings then the permissible noise level should not be more than 70 decibels. This decreases by 10 at night and comes to 60 decibels.
If you are near Hospitals or Sanatoriums, then the noise level should not exceed 50 decibels in the morning and 40 decibels at night. This means that EVs are actually a good option for the improvement of the physical health of the public as they produce no sound.
Problem with silent electric vehicles
However, on the other end of the spectrum, although Electric Vehicles are known to be quieter than regular cars, they also pose a serious safety hazard because of this very feature.
The noise-canceling element of EVs and hybrid cars especially at low speeds can be harmful to pedestrians, cyclists, people with headphones, and people who are visually impaired or hard of hearing, as compared to their internal combustion engine having counterparts.
This means that they will not be able to hear the silent vehicle as it approaches near them for 3-5 seconds of its acceleration and hence cannot keep themselves safe in return. According to estimates, electric vehicles are 37% more likely to be involved in accidents with pedestrians.
The statistic for road accidents between electric vehicles and cyclists is shockingly even higher at 56%. As a result, the law now requires cars to be equipped with Acoustic Vehicle Alert System (AVAS) that produces sounds even when the cars are being driven at less than 20 km/h.
Additionally, the sounds must be different from when the car brakes and when it accelerates as well. This makes it easier for the people on foot to predict amongst the diverse actions of a car and also identify any hazard before it is too late.  AXA report
Solution for silent electric vehicles & sound for electric vehicles
THOR is a first-in-class startup to focus on the acoustic safety of electric vehicles. At THOR, the engineers have taken this job very seriously.  They have been proudly serving the community since 2017 and has been constantly working on developing new acoustics, manufacturing vital hardware systems, and most importantly, coming up with comfortable musical compositions for EVs.
Smart Adaptive THOR AVAS (Acoustic Vehicle Alert System) is an artificial intelligence vehicle warning system designed specifically for electric vehicles like electric cars, electric vans, e-scooters, e-mopeds, and even e-bikes.
THOR AVAS has been engineered to improve the safety of electric vehicles by not only protecting the driver but also the people on the roads by producing sound. The sound systems present in the market at the moment are dysfunctional as they produce non-customizable sounds that are also low-quality.
Furthermore, the AVAS systems in the market produce squeaking or beeping sounds that are not pleasant to hear and are also not aligned with the idea of the cities of the future. The acoustic sounds also do not adhere properly to the safety requirements set up by law.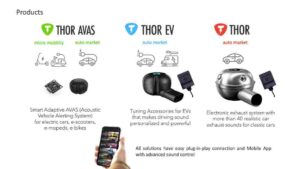 The THOR AVAS, a small round black device, produces sounds from our vast music list which have been composed by our engineers after spending a lot of time in creating, testing, synchronizing, and modifying sounds.
The sounds that have been fashioned can be chosen by the customer and hence are unique to your car and liking and are also comfortable to listen to. It is a simply connection with in the plug-in electronic module and an external speaker system.
You can control the sound system through a mobile application that is compatible with both iOS and Android devices. The technology is equipped with the necessary precautions that are required to ensure that the sounds originating from the system take into account the vibrations produced within the city as well as in a quiet place.
This smart gadget is able to adapt according to the environment it is in and then produce the required sound. After conducting extensive research, THOR has created sounds for the cars of the future. The engineers at THOR have made sure that the sounds produced are not just pleasing to hear but are also in correspondence to the safety requirements of today.
They can assure you that each composition has been crafted after passing through an arduous process to eliminate all risks. THOR make sure to put the highest value in the lives of their customers.
THOR team has also come up with an extraordinary Tuning Accessory for Electric Vehicles. It's known as the THOR EV and it features more powerful acoustics with striking lights and state-of-the-art sci-fi sound effects. It is a round black object that is not only stylish but is useful as well.
You can also get this product installed in electric cars, electric vans, e-scooters, e-mopeds, and e-bikes, just like our THOR AVAS. THOR EV also comes with an easy plug-in connection just like all of their products.
You can use our Mobile App that is available for both iOS and Android devices to control the sounds as well and choose and play them according to your needs and requirements.
THOR aim to bring a change in the acoustic technology of the world and make it safer for everyone. They have invented their products keeping in mind the acoustic ecology of the cities.
The engineers have kept track of the safety regulations while designing each and every product, be it their famed exhaust system, safety valuable THOR AVAS, and their powerful THOR EV.
They have also conducted thorough tests and studies so that traumatic road accidents caused by Electronic Vehicles can be avoided and the pedestrians, cyclists, and all the people with limited mobility can stay out of harm's way. That's the mission at THOR and they are glad to have you on board with them!
Source:- https://thor-avas.com/
Also Read:-